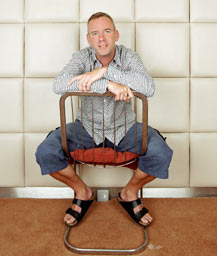 FatBoy Slim, the master of fu-fighting of music, original name Quentin 'Norman' Cook (Norman Cook), was born in Bromley, England, in 13th July, 1963, but grew up and inspired in Redhill (England). FatBoy Slim started DJing when he moved to Brighton to attend college. FatBoy Slim's first band was the Housemartins, where he played bass, invited by his old school mate Paul Heaton.
FatBoy Slim's first single with the band was Flag Day, which got him into the top120 charts. Shortly after this they released their second top-single Sheep, reaching the stars at #56. The next single was the big bang of their careers – Happy Hour, smashing everything and everyone to the #3 in the charts. Their album London 0 Hull 4 was also top ranked. But their follow album, summary of their Isley Brothers tune (1986), they got top position (yeah, #1!) in British charts. Their last album was The People Who Grinned Themselves to Dth was also very successful, getting a few singles into top 20, but shortly after their last success the band split up, for a reason unknown for me.
After FatBoy Slim's success with the Housemartins he returned in Brighton to start career as a remixer for Eric B. and Rakim's I Know You Got Soul. At this time FatBoy Slim formed Beats International, which wasn't exactly a band, but collaboration of music artists. Their first success was in 1989, with the single Dub Be Good to Me. Let Them Eat Bingo, Beats International first album, was dub filled sound fest. The second album, Excursion on the Version, was released in 1991. After this FatBoy Slim left the music stage for about two years, taking power for his great return.

Two years off the stage he felt that it is time to come back and bring people some fresh waves he formed FreakPower with brass player and vocalist Ashley Slater (from Microgroove, UK). FreakPower`s first album was Drive Thru Booty, released in 1994. With the single Turn On, Tune In, Cop Out They almost reached #1 position. The reason for this was because of Levi`s Jeans` they picked this single up for their multimillion dollar advertising campaign in 94. Great success for FatBoy Slim. More power and fans for FatBoy Slim.
Shortly after the FreakPower success, FatBoy Slim created new album, under the nickname Pizzaman (Norman is having 10+ pseudonyms, but for them – later). There were many top singles like Happiness, Sex on The Streets and Trippin' on Sunshine. In 1996 his band`s second album came out More Of everything…For everybody. Two singles were top-ranked in the charts, but the company, which holds FreakPower, stopped their activities. At this time Norman was working with Fried Funk Food, Mighty Dub Kats and Damien Harris (he helped for "Skint" Records).
Loaded-Records owned the pseudonym "Pizzaman" and so Norman turned into the ironical "FatBoy Slim". If you ask him – this nickname comes from a Louisiana blues singer from the 40′s, famed for a song called 'Baby, I Want A Piece of Your Pie.
Norman recorded "Better Living through Chemistry" over the course of a week in 1996. The album's name is connected with a slogan used in America in the 50′s, advocating that hyperactive children should be quieted down with large doses of valium. The name is also a nod to his friends and colleague, the Chemical Brothers, who convince him to put the album together. The album was totally successful.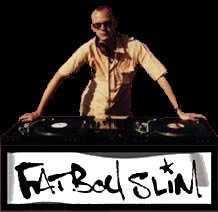 A few clubs from London offered him to DJ after they played his first single "Santa Cruz". And he did respond to their offer. Later he decided that he will gain more success if he opens his own club in Brighton, so he started this club and named it "Big Beat Boutique". At this time FatBoy Slim was the resident of this club. Norman again attracted the audience, gaining more and more power and fens.
He turned into one of the top DJs and remixers, working with such a stars like U2, Madonna, Cornershop, Wildchild, Beastie Boys, Fluke… even he remixed Queens "we will rock you".
In 1998 he released one of the greatest albums of all time for meВ  "You've Come a Long Way, Baby" (did you know that this name comes from a Virginia's Slims cigarette slogan?). This was the #1 album at the dance stage for 1998 with such absolutely smashing hits like "The Rockafeller Skank", "Right Here, Right Now", "Praise You"… Well, actually with every song in this album! At this time he reached more and more audienceВ  absolutely domination of the charts and the dance floors.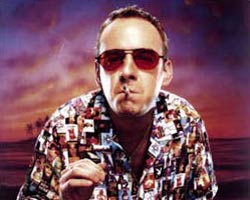 On the New Years Eve of 2005, Fatboy Slim performed live in front of a tremendous crowd on Bondi Beach in Australia. During this all night set, Fatboy Slim reverted back to his original style of music production and DJ-ing with an emphasis on Dance music. The performance was absolutely amazing, the crowd was jumping and screaming all the time.
He received an award for Best Dance Act 1999 from the Brits and four MTV Video Award nominations for his video 'Praise You'.